This tenacious little breed is said to be a handful to own. Alert, assertive and fearless they are infallible as a guard dog too! Yorkshire are known to be a bit nippy and must be supervised around strangers and other dogs.
They are good with children and other dogs that they do know and see frequently, which is good.This little terrier once worked as a ratter in the Yorkshire coal pits and cotton mills. Selective breeding resulted in the tiny dogs you now see representing this breed today. These small dogs were highly favored by wealthy English women, who used to call them "the dresser drawer dog", weird I know.
When they have puppies if you dont spay/neuter them, they can get around to 3-4. These dogs can live for a long time as can most dogs, but most small dogs like this one can live to 14 years and higher!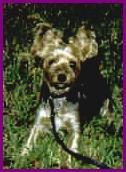 DO NOT COPY THIS PICTURE. IF THIS PICTURE
IS FOUND BY ANYONE ELSE BUT ME, FACE POSSIBLE CHARGES.